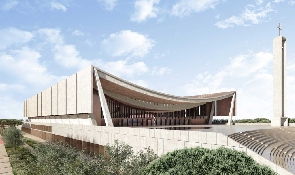 The construction cost of the National Cathedral project has been projected to cost the Ghanaian taxpayer about $1 billion which is different from government's $400 million figure.
This is according to Member of Parliament for North Tongu, Samuel Okudzeto Ablakwa, who claimed that government has been dishonest in the actual figure estimated to fund the construction of the national monument.

Speaking on Accra-based Citi TV on January 24, the North Tongu lawmaker poked holes in the $400 million figure estimated by government and members of the Board of Trustees.

"We were told by the Finance Minister [Ken Ofori-Atta] that the project will cost $100 million, then the figure rose to $150 million. The Chairman, Opoku Onyinah later mentioned $200 million but now based on fresh documents, I have realized the project is going to cost the Ghanaian taxpayer about $1 billion," he is quoted by citinewsroom.com.

"The same amount former president Mahama used to set up the Ghana Gas project which is earning us about $400 million a year," he stressed.
He further disclosed that the estimated $400 million does not include the cost of relocation of the Judges' bungalows, $50 million for the relocation of the Judicial Training Institute and the $10 million needed to relocate the passport office.

He added that other complexes have been demolished to allow for the construction of the project while others are yet to be relocated.

By his estimation, Samuel Okudzeto Ablakwa believes that the total cost of all these amounts, which will entail modifications to the project could increase the cost from $400 million to over $1 billion.

MA/FNOQ