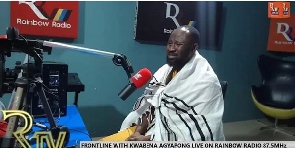 Prophet Prince Elijah, Founder and General Overseer of Grace Family Church claims that most politicians, ministers, and presidents do not take our prophets seriously when it comes to their prophecies because they are all members of occult groups.
The man of God observed that the majority of prophets who parade themselves as prophets rely on occultic powers, evil spirits, and black magic to perform miracles and prophesy.

He claims that prophets rely on these powers from the same sources that our politicians do, so they are not respected.

"I'll give four reasons why our politicians don't take our prophecies seriously. First and foremost, most politicians and prophets are criminals. So the politician understands that what the prophets say are predictions rather than prophecies. Second, most politicians have joined high occult groups where they meet pastors and prophets. So why should they respect you? Third, politicians seek out black magic, and when they do, they run into our prophets. Why should they respect you when you say something?"
"Our politicians know the source of your power. That is also their source, so they would not respect you."

He was speaking to Kwabena Agyapong on Frontline on Rainbow Radio 87.5Fm.

The fourth reason he gave was that some prophets and politicians pursued the same women or dated the same girls.