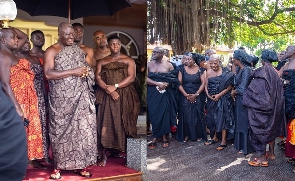 The Kufuor family on Monday, November 20, 2023, called on the Asantehene, Otumfuo Osei Tutu II, to show appreciation for his support during the final funeral rites of the late former First Lady, Theresa Kufuor.
The delegation that called on the Asantehene was led by the Oyokohene, Nana Kusi Agyekum Ababio, a head of the Kufuor family, opemsuo.com reports.

The report indicated that the children of the widower, former President John Agyekum Kufuor; family members from Mrs Kufuor's side, former Minister for Defence, Mr Kwame Addo Kufuor, other relatives of the former President and traditional rulers were among the delegation that went to thank the Otumfuo.

The final journey of former First Lady Theresa Aba Kufuor began on Thursday, November 16, 2023, in Accra when a Requiem Mass was held in her honour at the Christ the King Catholic Church.

A state funeral was subsequently held at the Forecourt of the State House in Accra on Friday before her body was conveyed to Kumasi for a final funeral and burial on Saturday, November 18, 2023.

The traditional funeral took place at the Heroes Park in Kumasi after which a private burial will be held for the former First Lady at a private residence in the Ashanti Regional capital.

A Thanksgiving Mass was also held at the St Peter's Cathedral Basilica at Kumasi, on Sunday, November 19, 2023.
The Otumfuo attended the Thanksgiving Mass in person. He also sent a delegation to the state and royal funeral.

View pictures of the Kufuor family's visit to Otumfuo below:


Otumfuo Osei Tutu II received former President J. A. Kufuor and his family at the Manhyia Palace on Monday, November 20, 2023.

[Thread 1/2] pic.twitter.com/MCjFRrJ9nr

— Opemsuo Radio (@OpemsuoRadio) November 20, 2023
The appreciative visit, in recognition of Otumfuo's presence at the thanksgiving service of the late former First Lady, Theresa Aba Kufuor, had in attendance the former Defence Minister Kwame Addo-Kufuor and traditional rulers.

cc/????: @ManhyiaPalace #opemsuoradio pic.twitter.com/VxtJUKVN3u

— Opemsuo Radio (@OpemsuoRadio) November 20, 2023
BAI/SARA

Watch the latest episode of Everyday People below:



Ghana's leading digital news platform, GhanaWeb, in conjunction with the Korle-Bu Teaching Hospital, is embarking on an aggressive campaign which is geared towards ensuring that parliament passes comprehensive legislation to guide organ harvesting, organ donation, and organ transplantation in the country.