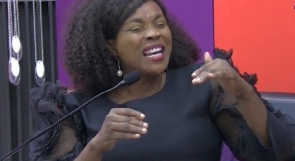 The embattled General Secretary of the People's National Convention (PNC), Janet Nabla, was locked out of her office on Thursday, September 9, 2021.
She lodged a complaint at the Kotobabi police station against the party's 2020 flag bearer David Apasera and the National Chairman Mr. Moses Dani Baah over her eviction.

She suspects the two men instigated her eviction.

Ms. Nabla had gone to the PNC's office to serve dismissal letters to Mr. Apasera and Mr. Dani Baah when the incident happened.
The two politicians had been removed from office by a section of the party.

This was a reprisal action that followed the suspension of the General Secretary by the other faction.

The party has been in turmoil for the past few weeks.