Parliament will require two-thirds of votes to pass anti-gay law if president refuses to assent – MP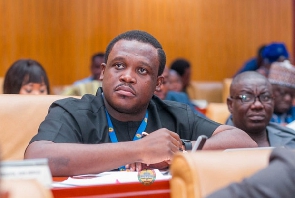 The lead proponent of the anti-LGBTQI+ Bill, Sam Nartey Geroge, has declared that if President Akufo-Addo does not assent to the law if it passes, parliament will have to act.
The Member of Parliament for Ningo-Prampram Constituency stated that the House is expected to debate the report that was submitted to the plenary today, Thursday, March 30, 2023.

According to him, they have 23 days to debate the report, make amendments, and then pass it through the second and final readings before it becomes law.

The President would then be required to assent.

If he does not assent to the law within six months, it must be brought back to parliament for two-thirds of members to vote to make it law.

The MP made the remarks during a phone interview with Rainbow Radio 92.4FM in the United Kingdom and Rainbow Radio 87.5FM in Ghana.
Sam Goerge also refuted claims that the President plays no role in ensuring that the law is implemented.

He stated that when the legislature passes a law, it does not become effective until the President signs it.

He noted that we had seen cases where the president promised to sign laws immediately after parliament passed them and that the anti-LGBTQI+ bill should not be an exception.

"The role of the President is critical because the constitution says that when parliament passes a bill into law, for that law to take effect, the President would have to sign and give a presidential assent. The only thing we can do is wait for six months. If after six months, he fails to give presidential assent, we have to bring it back to parliament and have a two-thirds majority vote to pass it into law. So the role of the President is critical, and so anyone who says that the President does not really have a role to play doesn't understand the law-making process."

He assured Ghanaians that the House will begin debating and considering amendments to the bill in their next sitting and that the bill could be passed into law by July 2023.