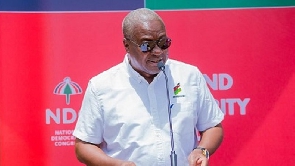 Former president John Dramani Mahama has noted that the seat of government, Jubilee House is the headquarters for the spread of fake news.
He says individuals who occupy the office have become experts at cloning accounts on social media and spreading fake news about people just to discredit them.

The former president made this known when he shared a tweet by his aide Joyce Bawa Mogtari debunking an anti-Ashanti tweet attributed to her.
The former President who did not mince words said: "It's the stock in trade of the Flagstaff House; Cloning people's accounts and using them to spread fake stories".