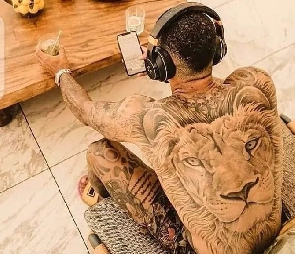 Tattoos, no matter how small or large, are often a reminder of how some people struggled in life from their early beginnings to becoming who they are in their respective societies.
Though some people use extremely scary tattoos, others often use some short inspirational quotes about strength, self-love, and life to keep their heads up high.

There are those who also draw images of their significant others or their icons on their bodies to show how much those people mean to them in their lives.

Tattoos were not common a few years ago, but they are gradually becoming more common, particularly in the lives of footballers and creative people (actors and musicians).

Tattoos have become a part of some footballers' lives. These players take great pride in inking their bodies. So let's find out the top 10 footballers' tattoos and the stories behind them.

Lionel Messi, David Beckham, Zlatan Ibrahimovic, Sergio Aguero, Sergio Ramos, and Neymar are some of the notable players in the game who have tattoos on their bodies.

However, today GhanaWeb Sports brings you photos of footballers who have some of the craziest tattoos on their backs.
2. Ibrahimovic pic.twitter.com/cJOWG96pT2

— KWESI PLUG ????????✌️???? (@Kwesi_Plug) January 20, 2023
3. Ramos pic.twitter.com/cDN5S3M16z

— KWESI PLUG ????????✌️???? (@Kwesi_Plug) January 20, 2023
4. Arturo Vidal pic.twitter.com/F8ThCeAIPl

— KWESI PLUG ????????✌️???? (@Kwesi_Plug) January 20, 2023
Nianngolan pic.twitter.com/9Yol0LXgLv

— MastaPee (@mastapee01) January 20, 2023
A Thread Footballers with the Craziest Back Tattoo

1. Memphis Depay pic.twitter.com/FsmpWTinzk

— KWESI PLUG ????????✌️???? (@Kwesi_Plug) January 20, 2023