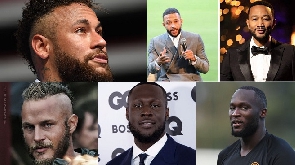 Football fans mostly describe some football players with their lookalikes in other industries in an attempt to appreciate or mock them.
There is the story of the Iranian student Reza Parastesh, who has reportedly slept with over 23 women due to his resemblance with Argentina and Barcelona legend Lionel Messi.

Kylian Mbabpe and Sadio Mane have also at a point gone viral on various social media platforms after photos of their lookalikes hit the internet.

The pictures of these footballers and their lookalikes to many confirm the popular narrative that God created every human being with his/her own lookalikes who have been scattered around the globe.

These lookalikes who often pop up on social media dominate the headlines because people do not have to stretch their imagination to link them with their main stars.

Checkout photos of top footballers and their lookalikes who are top celebrities in their industry.


Footballers and their celebrity lookalikes. No 14 will shock you????, a Thread

1. Neymar Jnr and Ragnar Lothbrok pic.twitter.com/kbXgXNwEd2

— Half Virgin???? (@modap_) January 25, 2023
2. Serge Gnabry and The Weeknd pic.twitter.com/m4mkfckM1D

— Half Virgin???? (@modap_) January 25, 2023
3. Braithewaite and Chris Brown pic.twitter.com/Nrxbuv9vWI

— Half Virgin???? (@modap_) January 25, 2023
4.Yassine Bounou & Miguel Herran (Rio) pic.twitter.com/VVHQkAeV7b

— Half Virgin???? (@modap_) January 25, 2023
5. Lukaku and Stormzy pic.twitter.com/rP3eBYK6LT

— Half Virgin???? (@modap_) January 25, 2023
6. Tomori and Santan Dave pic.twitter.com/xrXORGLZIk

— Half Virgin???? (@modap_) January 25, 2023
7. Haaland and Daemon Targaryen pic.twitter.com/PjxNhii91s

— Half Virgin???? (@modap_) January 25, 2023
8. Eduoard Mendy and Khaby Lame pic.twitter.com/dU2w9mAZ8g

— Half Virgin???? (@modap_) January 25, 2023
9. Alisson Becker and Chris Hemsworth pic.twitter.com/xfiQaQeS6V

— Half Virgin???? (@modap_) January 25, 2023
10. Enyeama and Skepta pic.twitter.com/4IqohGQPuT

— Half Virgin???? (@modap_) January 25, 2023