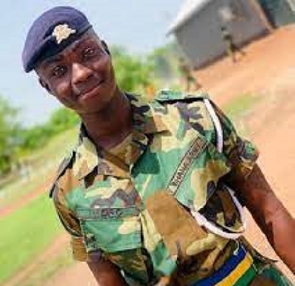 When Dancehall musician, Stonebwoy popular known as an 'Ashaiman boy' took to Instagram live to comment about military brutality in his community over the death of a young soldier, he stated that information reaching him was that, the murder involved a 'battle' over a woman.
When social media users and some concerned Ghanaians condemned the military scoop in Ashaiman, the famous musician who was outside the country at the time was urged to speak on the matter considering his influence and love for the community.

Stonebwoy had expressed displeasure about the turn of events condemning the killing and also cited rumours of a woman being the cause of the death of 21-year-old Imoro Sherif.

"I've heard a lot about the matter, I will put people on and whoever got information, make we reason. The most painful part I heard was that it was because of somebody's girlfriend. Why kill someone because of somebody...you don't understand love. It is immaturity...you stabbed someone and now your life make 'yawa'.

"Soldiers are my people...I am a soldier, I could have been a soldier if I didn't end up as a musician...the military loves me but it is not good if you move like this. Beating and molesting people...slapping innocent and normal people...people are doing a lot of things because of love and relationship...soldier man, weren't you aware that the lady you were after had a boy? Soldier, you should have asked the girl for the truth, or the girls no longer speak the truth?...ultimately, let's look at the cause of the matter and if indeed it is true that somebody was caught with someone's lover, then we have to be wise in our dealings, even the Bible tells us not to chase people's wives, girlfriends," he disclosed in his live video.

When Stonebwoy fanned rumours of Imoro Sherif meeting his untimely death as a result of a woman, some entertainment personalities including Arnold Asamoah-Baidoo condemned his utterances.
"The live video where Stonebwoy spoke about a man snatching someone's wife was unnecessary and needless. Especially when the police hadn't concluded their investigations...I expected him to exercise patience before speaking. He could have offered commentary after an official communique...but trying to insinuate that someone snatched another man's girlfriend was so unnecessary," Arnold stated on United Showbiz last Saturday.

News from the Ghana Police Service has, however, shoot down earlier rumours of Imoro's death being linked to an alleged affair with someone's girlfriend.

A statement issued late Sunday, March 12, 2023, announced that six persons had been arrested for their suspected roles in the murder of the soldier at Ashaiman Taifa on March 4, 2023.

Information coming in is that the deceased was robbed of his mobile phone and fatally stabbed by the first two assailants who attacked him.

The police said: "Investigations also revealed that suspects Samuel Tetteh and Abubakar Sadick sold the phone which they had robbed from the deceased to suspect Ibrahim Abdul Rakib who later sold it to suspect Safianu Musah.
"Suspect Safianu Musah is being evasive as to the whereabouts of the phone and claims to have sold it to suspect Yussif Mohammed and later to suspect Abdul Gafaru Abdul Karim."




Ashaiman Military Brutality: Stonebwoy's comment in his live video needless, unnecessary - @ArnoldBaidoo #UnitedShowbiz pic.twitter.com/vpD5EGeUY2

— UTV Ghana (@utvghana) March 12, 2023