General News Wed, 21 Mar 2018
Police in the Volta Region have arrested a Togolese Mercedes Benz 1120 cargo truck with registration number TG 336 AO carrying 89 maxi sacks of dried leaves suspected to be Indian hemp.
Each of the sacks according to the police who confirmed the arrest to MyNewsGH.com, contained 80 slabs with a total of 7,120 compressed substance which was loaded and bound for an unknown destination.
One of the suspects who tried bribing the police with GH¢10,000 was also arrested alongside the driver and his mate who were the occupants of the vehicle conveying the contraband goods.
Revealing how the police made the bust to MyNewsGh.com, police disclosed that on Monday, March 19, 2018 Chief Inspector Ransford Kwartei in the company of one Detective Corporal Opoku Michael, Detective Corporal Owusu Michael and Community Police Assistants Jasper Ameevor and Mark Amedekanya were on board a police vehicle with registration number GP-3543 driven by Corporal Robert Asante and were sending a convict prisoner to the Ho central prisons.
On reaching a section of the Ave-Hevi – Avaiavi motor road at a distance of about a kilometer to Ave Hevi Township, the Mercedes Benz cargo truck emerged from the bush to join the main Ave Hevi motor road.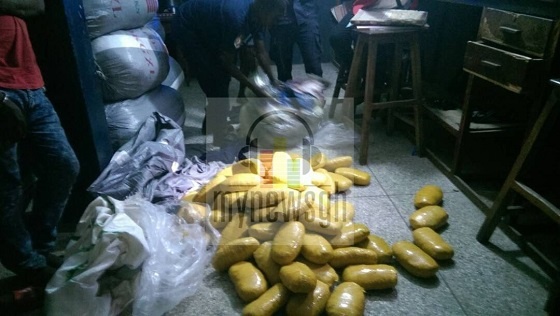 Upon seeing the truck Chief Inspector Kwartei asked the service driver to stop and on inspection of the cargo truck, the team detected that it was loaded with a quantity of maxi sized fertilizer sacks suspected to be cannabis.
The police immediately arrested the driver Dotsey Agbeviade and his mate Innusah Ahliha and sent them together with the truck and headed towards the Dzodze police station.
On the way to the police station another suspect, Vincent Dorwode on a motorbike ridden by Gideon Kortsi with GH¢10.000.00 and eventually followed the truck and attempted to bribe the police.
He is reported to have given them GH¢5,000 but the team leader took the money and arrested the suspects and informed the Divisional Commander one ACP Alex Amenyo who instructed they be brought to Keta Divisional command together with vehicle and suspects.
At the police station, the truck was thoroughly searched and 89 maxi size sacks were found.
One of the 89 maxi sized fertilizer sacks was cut open, in the presence of the divisional commander, the crime officer as well as Ali which revealed cannabis compressed into slabs of 80 in each sack.
All four suspects have since been detained and will be arraigned before court later this week according to what police disclosed to MyNewsGh.com.