Sports News Wed, 21 Mar 2018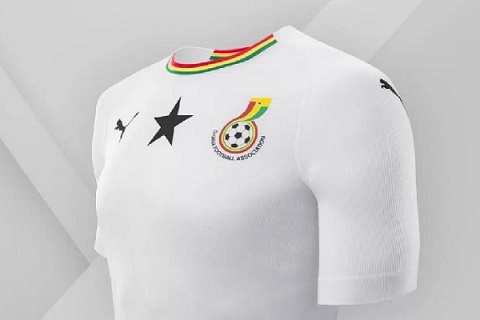 German sportswear manufacturers Puma have unveiled the latest kit designs for Ghana's senior national team, the Black Stars.
The Black Stars jersey was one of the 10 football jerseys unveiled by the sportswear giants who also revealed other designs for countries including Switzerland, Ivory Coast, Italy, Senegal, Cameroon, Czech Republic, Austria and Serbia.

The Black Stars jersey will be used in their upcoming international friendlies. The Black Stars are rumoured to play Japan before engaging Iceland in a confirmed friendly on June 7 in the city of Laugardalsvellir.

The designs for all the predominantly white jerseys (including the Black Stars jersey) are very similar, with the colours of the respective collars the major difference.

However, according to the Puma mission statement, each jersey incorporates "design elements that represent each nation individually".

Each kit features design elements that represent each country with the Ghana jersey featuring a Black Star on the chest.
All kits have Puma's evoKNIT thermoregulation technology, which has an adaptive cooling system and enhanced moisture management that claims to deliver the perfect on-pitch body temperature.

"Unified by colour, each shirt celebrates the elementary design features of each federation; including badge, flag or iconography, allowing the supporting nation to shine through," an official press release read.

"Under one design language, PUMA has created a kit design story that is clean, stylish and free of distractions. Each kit is distilled to the unique and core elements that represent each federation; from the nine blue lines on the neck of the Uruguay shirt that represent the nine original departments of the nation to the red of the national flag on the collar of the Swiss jersey."

PUMA Teamsport Creative Director Stefano Favaro had this to say about the new kits: "When our federations step out on to the pitch, they all play with a nation's support, and a passion for the crest that adorns their chest. With this clean, contemporary design statement, we wanted to strip back all the noise and elements that stand between our teams, players, and crowd to celebrate what they play for, the badge, the flag, and the fans."