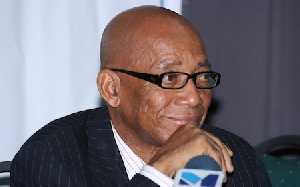 Former boss of the Commission on Human Rights and Administrative Justice (CHRAJ), Justice Emile Short, has cast doubt over claims that the current commissioner exonerated President John Mahama on the Ford gift saga to protect his job.
The youth wing of the Convention People's Party (CPP) and an individual petitioned the state's human rights institution over the gift to the president some years back by a Burkinabe contractor.

They alleged a conflict of interest and bribery against the president for receiving the car gift from the contractor who has worked on some contracts for the government, But after investigations, CHRAJ announced on Thursday, September 29 the president's action in accepting the gift did not amount to bribery.

It however said the president violated the code of conduct for public officers in accepting the gift from the Burkinabe contractor, Djibril Kanazoe. Following the decision, there have been claims that the presidency influenced CHRAJ in arriving at that conclusion.

Speaking to 3FM Monday, Justice Short rejected the claims of influence on CHRAJ by the presidency, noting bowing to the dictates of the appointing authority undermines the principle of integrity and professionalism.
"When you do that you undermine the principles of integrity and professionalism. I do not think anybody should act to please their appointing authority," he said.

Using himself as an example, he said at no point in time during his seven-year tenure did he do anything in the line of his work to please the appointing authority, President Jerry Rawlings.

Meanwhile, Justice Short has discouraged the practice of acting positions, which he observed is a recipe for poor performance due to the insecurity of tenure, making officers feel obliged to their superiors.

He challenged public officers to have the courage and conviction to discharge their duty in accordance with the oath they take, noting the fact that "you are appointed by the President should not dictate how you perform your functions".