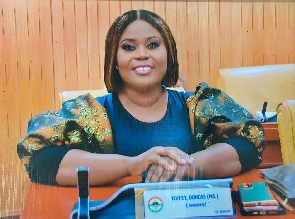 Dorcas Afo Toffey, Member of Parliament for Jomoro Constituency in the Western Region, has expressed her delight at the reopening of the Ivorian border.
She believes that reopening the Ivorian border in Elubo will restore the social life that residents along the border have lost as a result of the border closures.

She stated that people near the borders have suffered in the last two years as marriages failed and businesses have failed.

In an interview, the legislature expressed this hope with the reopening of the Ivorian side of the Elubo border.

Ivory Coast opened its border nearly a year after Ghana opened its Elubo border to allow Ghanaians to conduct business with their Ivorian counterparts. Despite the low number of reported COVID-19 cases, the Ivorian borders were closed.

The border has been closed on both sides for exactly two years and eleven months.
Because men were unable to feed their wives and children, businesses and marriages crumbled. Pupils and students also left because their parents were unable to pay their tuition.

Hardship was the order of the day, according to the MP, as serious businessmen and women began begging for money. However, on Thursday, February 16, 2023, at midnight, the Ivorian authorities held an opening ceremony to welcome Ghanaians and Ivorians to and from Ghana and Ivory Coast.

Madam Afo Toffey, commenting on the development, expressed gratitude to both the Ghanaian and Ivorian governments for taking into account the plight of traders in both countries and thus opening the border.

The MP expressed her joy because the vibrant Elubo that went 'dead' will now resurrect because businesses will resurrect.

"I am really happy because we are tired. My people are tired and I am tired because I have championed the reopening for a long time and I thank President Akufo-Addo that at long last, the government's negotiations with the Ivorian counterpart have been fruitful and the border has been opened" Madam Afo Toffey said in Twi.
She said, "it's been long overdue because just last week, I spoke about it in an interview urging the president to do all he can to get the border opened and so we thank God for that".

She explained that "it has not been easy for those border towns because Elubo was a vibrant town but people resorted to begging due to the closure".

Madam Afo Toffey urged the traders to go back to their businesses because she is optimistic that soon, marriages and businesses that collapsed would be rekindled.

You can also watch this episode of People & Places here: