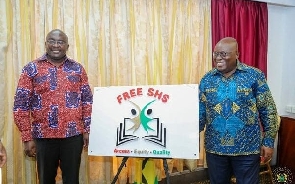 Mon, 13 Sep 2021 Source: Ebenezer Kofi Hayford, Contributor
The Caucus for Democratic Governance Ghana, (CDG-GH), on the basis of its research on "Free Senior High School (FSHS) Policy and its Challenges", is scared at the present and future prospects and quality of our system of education. The badly planned policy, characterized by initial uncontrolled euphoria, masterminded by massive propaganda obliterated the true expectations of parents. With time, the problems multiplied.
Later, inadequate logistics, inadequate infrastructure and inadequate operational finances became major obstacles. It is therefore not surprising, that in 2018, the Human Capital Index (HCI) report by the World Bank, confirmed that 56% of Ghana`s human capital will go to waste in the next 18 years because of poor quality of education.

BEFORE 2017

In 2001 the Government introduced subsidies in the SHS meant to reduce the burden on parents and wards in such schools. The debate on FSHS actually started in 2009, In this debate, some conservatives saw the FSHS as preposterous and unimaginable; others however considered it as a poverty alleviation option and a panacea for providing all youth (both rich and poor) with improved and sustainable access to SHS education.

It is therefore obvious, that contributions to the implementation of FSHS started before 2017. In line with the socio-economic development, former President John Mahama instituted several socio-economic projects to support parents. School uniforms, shoes, sanitary pads and textbooks were supplied without cost to students of SHS.

Poor parents were given poverty alleviation subsidies to assist them and their families. In 2015, former President Mahama started preparing for a gradual progressive free education as the constitution directs. He provided the first laboratory requirement and expanded some SHS, as a prelude to free SHS and continued to build additional two hundred Day Secondary Schools with its modern Laboratories and serene compounds.

Every constituency was to get a Day Secondary School. He was also planning a National stakeholders meeting to discuss the variables.

Missing Link

In September 2017, President Akufo Addo`s Government rolled out its lead campaign promise, the free SHS;

1. Without recourse to the limitations of the constitutional clause,
2. Without stakeholder involvement,

3. Without conceptualizing the risk, monitoring and implementation on a pilot basis,

4. Without considering overcrowding due to increases in population growth,

5. Without increasing infrastructure to correspond to increases in numbers,

6. Without considering the health risks likely to come up should number exceed limited infrastructure,

7. Without considering the absolute financial cost and its long term sustainability.

This was not surprising, because the President had much earlier told Ghanaians, that he is in a hurry to carry out his campaign promises; a precursor to the unprofessional manner he was going to run the country. As a result of bad planning, lack of policy guidelines, confused and uncoordinated implementation, the free SHS, a little over two months after its implementation was facing structural defects and challenges.

There are serious challenges, recorded in many of the schools, including Damango SHS and Kumasi Academy. The Headmasters were silent for fear of intimidation. The FSHS has massively increased enrollment, which could not be sustained by the existing limited infrastructure.

Generally, high enrollment with inadequate infrastructure leads to overcrowding. In our SHS system, we have four hundred and seventy-five (475) SHSs with about 500 students in each school. This gives two hundred and thirty-seven thousand and five hundred (237,500) students. Many of these schools were overcrowded due to inadequate infrastructure.
Flaws in Implementation

CDG-GH seeks to point out flaws in implementation and to address the poor and unacceptable health conditions which were the result of these flaws. The CDG-GH calls on the MOH, GHS and MMDAs forthwith in this period of COVID-19 :

a. To activate or set up an infirmary in all the SHS with facilities for doctors and nurses

b. To detect early symptoms of diseases and to prompt management and referral hospitals,

c. To adequately resource the infirmary,

d. To provide free health care for SHS students,

e. To actively monitor all cases of meningitis, H1N1 and COVID-19; focusing on key symptoms,

f. To vaccinate all SHS students against identified diseases such as H1N1, meningitis and COVID-19

g. To intensify Public Education,
h. To ventilate and decongest the classrooms and dormitories.

The causal relation between overcrowded SHSs and the ever-increasing deaths in the SHSs has been established and proved. Our condolences go to about ten students from Kumasi Academy, who died from meningitis and H1N1. Similarly, our condolences go to the Koforidua SECTECH student, who also died of meningitis. These are but only a few of the many students who suffered terrible conditions as a result of the free SHS mismanagement; not to forget those who defecate into rubber bags because there are only few toilets.

Double Track

The double-track system was introduced apparently to alleviate the suffering of the students. In this system, one half (green) go to school for 41 days and come to stay at home for four weeks, followed by the other half (yellow), was introduced; making absolute control of the children barely impossible.

This period led to increases in drug-related offenses, pregnancy, criminal activities among the children. When things were getting out of control, parents started agitating. The result was the introduction of extra classes, the cost of which the parents had to bear. Some parents complained that in spite of the fee-free policy they were spending more money on their wards. Besides, the double-track system does not promote quality education. The original high standard of education fell as a result of double track.

The remedial courses apparently meant to ensure quality, could not be sustained; as a result of a financial burden on parents. With time, the increasing number of students and its related financial demands multiplied the problems.

Intolenrance

The atmosphere of intolerance was the result. Headmasters, who expressed dissenting views were transferred to remote villages or dismissed. In some schools, students still have no tables and no chairs and so have to sit on the floor. Headteachers dared not complain.

Of late, the Ministry of Education with its new Curriculum for Primary Schools (Basic 1-6), seeks to rewrite the history of Ghana by eulogizing JB Dankwa. The question is: what will such changes bring Ghana? The Caucus for Democratic Governance, Ghana (CDG-GH), following closely discussions on the Curriculum for Primary Schools (Basic 1-6), has seen no changes made by the Ministry of Education.
Human Capital Index

The latest Human Capital Index (HCI) report by the World Bank revealed that 56% of Ghana`s human capital will go to waste in the next 18 years because of the poor quality of the country`s education system. The report revealed that only 44% of the children born in the country today will become productive when they grow up. The HCI which measures the amount of capital that a child born today can expect to attain by age 18, stated that the poor quality of education will translate into a lack of capacity to support sustainable development. The report made public by the World Bank Office in Accra on the 6th of November 2018, ranked Ghana 116 out of 157 countries.

Strategic Cconcept

In 2009 the late President Atta Mills took over from former President Kufour who left behind 4,000 schools under trees. A well-planned strategic concept by late Prof Mills and President Mahama was to give the children conditions that will generate a solid foundation for further academic work. Any attempt to positively improve education must start from the base. As a result 1,755, six classroom blocks were built, to eliminate schools under trees. School books and uniforms were provided. The concept was later religiously followed by President Mahama.

Conclusion

Members of the CDG-GH are of the opinion, that the controversial and unpopular policies being rolled out by the Nana Addo Government since 2017, should end. The Double-track system must be abolished. It is a recipe for disaster and would not promote quality education. The History of Ghana Curriculum for Primary Schools has to be revised, and the introduction of Comprehensive Sexual Education (CSE) in Primary Schools (Basic 1-6), should stop.

Dr E.K.Hayford

Executive Director, CDG-GH

0277606338 / 0243609277
Source: Ebenezer Kofi Hayford, Contributor