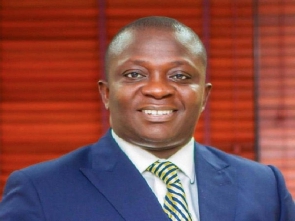 Minister of Food and Agriculture, Bryan Acheampong has hinted that President Nana Addo Dankwa Akufo-Addo will this month launch phase II of the government's flagship agriculture programme Planting for Food and Jobs (PFJ).
The Minister explained that the second phase of the programme with a five-year plan will shift from small-scale farming to relatively large-scale farming to change the landscape of agriculture in Ghana for the program to achieve its target of food security.

He stated that this is going to be done in collaboration with chiefs to make lands available for the program.

Dr. Bryan Acheampong said this during an interview with local journalists from major radio stations in Kwahu in the Eastern region dubbed "The Big Interview".

"President and National House of Chiefs are going to meet to plead with them to allocate and designate lands as commercial farming areas for Ghana. That is the only way we can measure our production. Therefore we encourage everybody to now begin to look for a land minimum of 5 acres. We are moving away from one-acre mixed farming. Look for a minimum of 5 acres and you will get direct support from fertilizer suppliers and improved seeds and mechanization services in the new program the president will launch in July and it is going to transform the landscape of agriculture," Bryan Acheampong said.

He stressed that there are some interventions the second phase of the program will come along with. These include mechanization and technical support, an insurance package and a ready market for farmers.

He explained that ten crops and poultry products under the program have been listed to be purchased by the Ghana Commodities Exchange Company
"When you go into large-scale commercial farming all these factors (insurance) come to play. With the new system whatever you produce Ghana Commodities Exchange will buy. We are focusing on ten crops and poultry to revive it With these ten crops and poultry whatever you produce Ghana Commodities Exchange will buy. Under the new input credit system to come, there will be a lot of public sensitization,"

The government has allocated to spend GH¢660 million to Planting for Food and Jobs (PFJ) programme for the 2023 implementation year.

The amount is an increase from the GH¢614million spent in the 2022 planting season, constituting a 7.5 percent jump compared to the 39.8 percent – GH¢439million – rise recorded in 2021.

Out of the allotted amount this year, GH¢53million, 8.07 percent, has been earmarked for capital expenditure; with the remaining 90.3 percent allocated for goods and services and is expected to finance subsidies for seeds, fertiliser and other initiatives under the programme.

Financial allocation to the PFJ program has seen a consistent increase since 2020 after a 45.71 percent decline in 2019 – rising from GH¢380million in 2019 to GH¢660million in 2023 with a target of 1.5 million farmers.

The allocation of GH¢660million this year constitutes about 30 percent of the Food and Agriculture Ministry's (MoFA) total budget allocation of GH¢2.1billion for 2023.
The sector's entire allocation in 2023 increased by 95.19 percent from the GH¢1.1billion of last year.

Planting for Food and Jobs was introduced in 2018 however critics say the program has been a failure as food inflation rose to over 50 percent last year forcing the Ministry to transport food from rural areas to cities to mitigate the impact.

Member of Parliament for Keta, Kwame Dzudzorli Gakpey, for instance, criticised and described the program as a failure stating that the country still imports foods and raw materials which can be locally produced.

"Last year the Ministry bought yellow corn, 600 metric tonnes into the country. Meanwhile, the planting for food policy is working and it is so sad that projects that we're to do to enhance agriculture in the country are not yielding the necessary impact.

He, thus, emphasised that "the Planting for Food and Jobs programme is a failure and we need to revisit the policy because our companies and factories are suffering and companies are willing to add value but the raw materials are nowhere to be found".