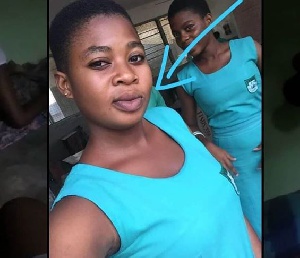 Last year was a particularly good one for people who have interest in leaked adult videos as a number of them popped up online.
In fact, so many of them trended online so much so that YEN.com.gh compiled a list of the 10 wildest adult videos for 2018.

It looks like we are continuing from where we left off as another 'atopa video has hit social media.

This time, it involves a beautiful girl who is said to be a student of the Mpraeso SHS in the Kwahu area of the Eastern Region and some guy. The fair-looking lady's name is yet to be known but rumours on social media have the guy might be her boyfriend.

While YEN.com.gh cannot post the obscene video here, images we have seen show the girl and her boyfriend in different 'atopa' positions in a ghetto-like room.

The room only had an old-looking student mattress on the floor and it was on that flat mattress that they did the action.
Surprisingly, one guy was spotted in the footage sitting and watching and also taking a video of the action. It is not yet known how the video got leaked onto social media but it is fast going viral, especially on Whatsapp.

The video happens to be the second 'atopa' video to have leaked barely three days into the new year.

YEN.com.gh had earlier published a report on another adult video involving a man believed to be a police officer.

Coming in January and also involving an SHS girl, this video brings to mind the kitchen stool adult video.

The video involving Robert Sepey, the then Headmaster of the Edumanu D/A Basic School in the Central Region, and his former pupil who had moved to SHS ended up being the most popular leaked adult video in 2018.