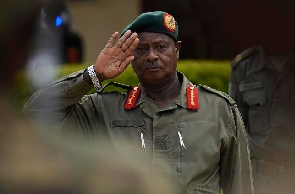 Yoweri Kaguta Museveni, president of Uganda has declared that the subject of an anti-LGBTQ bill is closed since May 29 when he asssented to the Bill transmitted to him from the Parliament.
He stressed in a quote shared by the presidency that 'nobody will move us,' likening the fightback that the Bill has generated to a war situation, which he said the country was ready to face.

Museveni, who has perenially spoken in harsh terms against same-sex relations said the ruling National Resistance Movement (NRM) will resist any opposition day and night.

"The NRM has never had two languages, what we tell you in the day is what we shall say to you at night. The signing of the Anti-Homosexuality Bill is finished, NOBODY will move us, We should be ready for a war. Remember war is not for the soft," Museveni is quoted to have said.

President Museveni signs anti-LGBTQ law

The 78-year-old signed the much talked-about anti-homosexuality bill into law on May 29.
The new legislation limits the offence of homosexuality to gay sexual acts, carrying a maximum penalty of life imprisonment.

Aggravated offences, such as sexual abuse against minors or disabled individuals, or infecting a victim with a lifelong illness, can result in the death penalty, the BBC Africa LIVE page reported.

The law also mandates reporting of any homosexual abuse against children or vulnerable individuals.

International partners and organizations expressed deep concern over the law's impact on health education and outreach programs for AIDS and the safety and well-being of LGBTQ individuals.


President @KagutaMuseveni????️: The NRM has never had two languages, what we tell you in the day is what we shall say to you at night. The signing of the Anti-Homosexuality Bill is finished, NOBODY will move us, We should be ready for a war. Remember war is not for the soft. pic.twitter.com/8nuMRXYlb1

— State House Uganda (@StateHouseUg) May 31, 2023


Meanwhile, watch a snippet of GhanaWeb TV's latest program that focuses mainly on Everyday People below:





You can also watch the latest episode of People & Places on GhanaWeb TV:




Meanwhile, watch the latest episode of SayItLoud on GhanaWeb TV below:






SARA