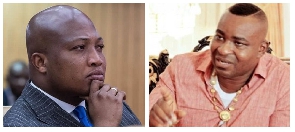 The Ashanti Regional Chairman of the New Patriotic Party (NPP), Bernard Antwi Boasiako popularly known as Chairman Wontumi, has advised the Member of Parliament of North Tongu Constituency, Samuel Okudzato Ablakwa to cease spreading what he views to be misinformation about the National Cathedral and its board of trustees and rather pursue a presidential ambition.
Speaking in an interview on Wontumi TV, Wontumi stated that Haruna Iddrisu will be the NDC's flagbearer in a few years and that Ablakwa stands a chance of becoming his running mate if he plays his cards well.

"See, Mahama will lose in the 2024 elections, so, Okudzato Ablakwa has to be humble so that when Haruna Iddrisu is becoming a flagbearer he will consider you as his running mate. But now you're tarnishing your image. Mahama cannot come again. He has already been president and vice so that's the end for him," Wontumi said.

Samuel Okudzeto Ablakwa has been a staunch advocate against the construction of the National Cathedral, on grounds that the timing, location and process are wrong.

He made some allegations against Reverend Kusi Boateng, secretary to the Board of Trustees for the National Cathedral in a social media post dated January 16, 2023.

In an explosive set of allegations which he describes as the Tsar Bomba of all scandals, Ablakwa claimed that Reverend Kusi Boateng holds multiple passports and identification cards with some bearing the name Kwabena Adu Gyamfi.

"You will recall that in my earlier exposé of the scandalous GHS2.6million cash transfer from the National Cathedral Secretariat to JNS Talent Centre Limited, I pointed out that incorporation documents reveal that the three directors of JNS Talent Centre Limited are Johannes Eshun, Sheila Eshun and Kwabena Adu Gyamfi.
"I also later revealed that Rev. Johannes Eshun is a branch pastor of National Cathedral Executive Council Member/Director, Rev. Victor Kusi-Boateng's Power Chapel Worldwide.

"Hitherto, the third director—Mr. Kwabena Adu Gyamfi has remained a mystery figure.

"I am now able to reveal the true identity of this mystery director of JNS, Kwabena Adu Gyamfi.

"Definitely, the code has finally been cracked and it shocks to the marrow!

"Unimpeachable and incontrovertible evidence confirms that Mr. Kwabena Adu Gyamfi is the famous Rev. Victor Kusi Boateng who still serves on the National Cathedral Board as an Executive Council Member/Director.

"For the avoidance of doubt, there is no distinct Kwabena Adu Gyamfi. Kwabena Adu Gyamfi is a criminal creation of Rev. Victor Kusi-Boateng. The two are therefore one and the same.
"Rev. Victor Kusi-Boateng AKA Kwabena Adu Gyamfi thought he had outwitted every Ghanaian, particularly our authorities whom he dribbled for many years; but the day of reckoning is finally here.

"From unassailable and irreproachable documents in my possession, Rev. Victor Kusi-Boateng AKA Kwabena Adu Gyamfi uses multiple passports and multiple identification cards with different names and different dates of birth as his special modus operandi," he wrote on Facebook.



AM/KPE