Stop the rascality! - Kwesi Ernest roars at 'GH¢100,000 for secular acts, GH¢5,000 for gospel artistes' trend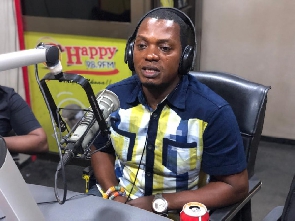 Popular Ghanaian music executive, Kwesi Ernest, has bemoaned the trend of secular artistes receiving more money from event organizers than gospel artistes at events.
Describing it as sheer rascality, Kwesi Ernest claimed that secular artistes in Ghana are usually given preferential treatment over gospel artistes although they're all on the same scale.

Ernest, who doubles as the chairman for the 'Table of Men', a popular gospel advocacy group, said all through his career as a music producer, he has experienced this trend, which has seemingly intensified in recent times.

"I go to places and I see that on a platform where secular artistes are paid GH¢100,000, gospel artistes are paid GH¢5,000. That rascality must stop.

"For 26 years of my life, I have been a music producer, and I can't sit there and watch gospel musicians being ridiculed and sidelined in this industry. The keyboard that Black Sherif uses to produce his songs is the same one that Piesie Esther also uses. They both record in studios so what is the problem?" He fumed during a dinner hangout with Piesie Esther.

In a build-up to the 2023 VGMAs, social media witnessed how the 'Table of Men' championed the course of Piesie Esther winning the ultimate award (the Artiste of the Year), alongside six others she was nominated for.

Their advocacy was met with concerns that their group is somewhat tilted towards just a section of gospel individuals, including Diana Hamilton, MOG, Celestine Donkor, and others.
But reacting to the above claims, Kwesi Ernest said,

"The table of men is not built for just one division of gospel artistes. Every gospel musician should be happy that finally they have people who can speak for them. We are here to fight for the soul, body and life of gospel music."

Watch the video below:


EB/OGB