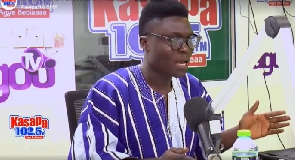 A Lecturer at the University of Professional Studies, Accra(UPSA) Daniel Fenyi is advocating for the suspension of the salaries of teachers who sexually abuse their students as a punitive measure.
According to him, he does not support the outright dismissal or transfer of such teachers from one school to another.

His comment comes on the back of the Ghana Education Service recent interdiction of Emmanuel Nyarko, the Headmaster of Benkum Senior High School (SHS) in the Eastern Region, following allegations of sexual misconduct.

Mr. Nyarko has been interdicted pending investigations into his reported involvement with approximately 15 female students at the school.

It has been revealed that several teachers at the institution, who were allegedly engaged in similar misconduct, cited Mr. Nyarko's behaviour when attempting to arrange their transfers to different schools.
The incident took place in 2022 and has been under investigation since then.

Commenting on such immoral acts in an interview on Ghana Kasa show on Kasapa 102.5FM/Agoo TV Wednesday, Mr Daniel Fenyi who's also a professional counsellor in condemning the reprehensible acts said he believes suspending such a teacher's salary for a whole year will be punitive enough to put him to check.

"I don't believe that teachers who sexually abuse students must be outrightly dismissed for them to be unemployed. I think that such teachers must rather have their salary suspended for one year. If such a teacher stays home for one year without no pay and he has to really struggle to make ends meet and fend for his family, and he comes back, he will know the value of the work he's doing."

He added: "Many people believe that government workers are not easily dismissed when they go wrong unlike it happens in the private sector, so take a whole lot of things for granted. Let's begin to suspend peoples salaries. When they go one year or six months without salary they will come back and put value to their work."