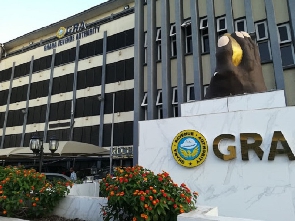 Legal Practitioner, Lawyer John Owusu Agyemang says the Ghana Revenue Authority's (GRA) refusal to confront lawyers over filing of their tax returns is largely responsible for the tax evasion in the legal sector.
He asserted that the Authourity may be 'scared' of lawyers and therefore has never sent any of them to court for not paying their taxes.

President Akufo-Addo charged lawyers in Ghana to pay their fair share of taxes in Ghana as well as inspire their clients and Ghanaians at large to pay their taxes in order for the country to undertake the developmental projects so desired by all.

Addressing 2021 edition of the annual Ghana Bar Association conference held at the Fountain Gate Chapel, Bolgatanga, under the theme: "Ensuring an Increase in Revenue Mobilization for the purpose of National Development through Taxation; The Role of the Lawyer", President Akufo-Addo said the records of the Ghana Revenue Authority (GRA) shows that lawyers across the country are among the list of peoples who do not pay taxes in the nation.

"I have to point out that if this campaign you are undertaking is to be successful, you will have to start from home. Mr. outgoing president of the Bar, there is no easy way of putting this, you will have to start by getting members of the bar to pay their taxes".

"The record of lawyers in paying taxes is being historically poor. It is unfortunate but the most unpleasant fact that the members of our profession have not been known to set a good example when it comes to paying taxes" President Akufo-Addo said.
"They appear to think that being members of the learned profession put them above complying with everyday civic duties like paying taxes. It is embarrassing that lawyers are often at the top of the list of those who flout our tax laws and use their expertise to avoid paying taxes," the President added.

GRA Tax Moves

According to the President, the GRA and the National Identification Authority (NIA) through a joint effort has discovered that there about 60,000 professionals in Ghana who do not pay any taxes at all. These professionals are lawyers, accountants, doctors, engineers, architects, among others.

Speaking with Ekourba Gyasi Simpremu on Atinka TV's morning show, Ghana Nie, Lawyer John Owusu Agyemang said,"Sometimes the people are assessed and given the bill to pay but they do not go and pay. And for the Ghana Revenue Authority, I do not know if it is fear or what but they are unable to take the lawyers on or to task and that is one major factor. I have never seen them take any lawyer to court for not paying tax despite talking about it several times to set as an example. They do not do it and I don't know if it is fear or something else."

Although not the first time a President is pointing out lawyers for not paying their taxes, he said he does not understand why some of his colleagues have continuously failed to pay their taxes as expected of them.
"If you look at this country, we are also part of the authorities, we are part as lawyers and as role models who do not want to pay taxes, I do not understand it.

He said some of them do pay their taxes because they do not want to cheat the country.

"As old men, we do not want any trouble, we are scared and so we do pay our tax. we started paying our taxes from when we started practice, we pay our taxes," he said.

The Lawyer therefore encouraged his colleagues to pay their taxes as expected of them.