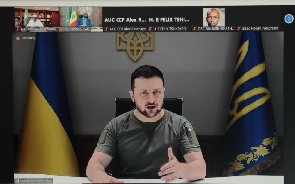 Of a possible 55 Heads of State, only four made time to join a virtual address delivered to the African Union Assembly on June 20 by Ukrainian president Volodymyr Zelensky.
The BBC reported on Tuesday that even though invitations were sent to all African leaders, "only four attended. The rest of the countries sent representatives.".

The Africa Report, a pan-African news analysis website in their story listed the four heads of state that attended citing an internal source within the AU.

They listed the attendees as:

a. Macky Sall of Senegal, who is also the current President of the AU.

b. Alassane Ouattara of Ivory Coast
c. Denis Sassou Nguesso of Congo Republic and

d. Mohammed El-Menfi, President of the Libyan Council.

Zelensky in his address said Africa was a "hostage" of the Russian invasion of Ukraine. "Africa is actually a hostage... of those who unleashed war against our state," the AFP news agency quoted him as saying.

He disclosed that Ukraine was doing everything within its power to ensure that blocked grain reserves in its Black Sea ports are shipped out.

"This war may seem very distant to you and your countries," he told the AU. "But the food prices that are catastrophically rising have already brought [the war] to the homes of millions of African families."
Aside the AU President Macky Sall, the AU Commission chair, Moussa Faki Mahamat, who was also present along with other senior members of the commission.

Macky Sall in his tweet after the meeting reiterated the AU's resolve to play a part in ensuring a peaceful resolution of the crisis said: "Africa remains committed to respect for the rules of international law, the peaceful resolution of conflicts and freedom of trade."

On his part, the AUC chair tweeted: "We reiterated the AU position of the urgent need for dialogue to end the conflict to allow peace to return to the Region and to restore global stability."

Africa has been divided on the Russia-Ukraine crisis despite an admission by economists and analysts that the war has had an effect on African economies.

Russian President Vladimir Putin on February 24 ordered a military operation in Ukraine after it emerged that the country was seeking entry into the North Atlantic Treaty Organization - which Russia sees as against its security interests.