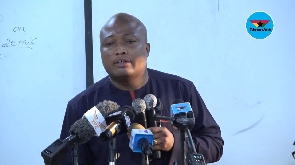 Member of Parliament for North Tongu, Samuel Okudzeto Ablakwa insists that the work he is doing by way of pushing for accountability and transparency in the construction of the National Cathedral is not an agenda against the church.
The Ranking Member on Parliament's Foreign Affairs Committee, in a Citi TV interview (December 2022), emphasized the importance of religion (Christianity) on his past and present.

Ablakwa has over the last few months published instances of corporate governance and alleged financial infractions on the part of government and trustees in the building of the Cathedral.

The dogged nature of his advocacy has led people in some quarters to question his real motives, but he insists: "This is not an agenda against the church, I am not seeking to bring down a religion that I will be nobody without.

"I have said time without number that where would I be without Christianity? Belief in the saving power, the salvation grace of Jesus, the Christ," he stressed.

He recounted how former Speaker of Parliament, Prof Oquaye, had mentored him through his Sunday school days as well as his role in religious groupings during his Senior High School days.
"I am not a pagan, I am not anti-Christ or whatever they say," he added.

Ablakwa goes after secretary to Board of Trustees of National Cathedral

The Member of Parliament has since January 2023 disclosed statutory documentation purporting to prove that Rev. Victor Kusi Boateng, is operating under the pseudonym Kwabena Adu Gyamfi for criminal purposes.

The MP has so far released a number of passports, drivers' license, Tax Identification Number data and details of company registration that Kusi Boateng (Adu Gyamfi) has used in the past and some he continues to use.

In the latest installment of his posts, Ablakwa said a statement by the NIA on the Ghana Card status of Kwabena Adu Gyamfi confirmed that in their records, Victor Kusi Boateng did not exist, a claim he made last week.
He has justified his publications of Kusi Boateng's documents with the view that the clergyman was using two names because he was engaging in criminal activities with one of the identities (i.e. Kwabena Adu Gyamfi.)

Ablakwa has stood by an accusation that the pastor's company (JNS Talent Center) was paid an unmerited sum from the National Cathedral kitty, even though the secretariat has explained that the GHC2.6 million paid to Rev Kusi Boateng was a loan repayment.

According to Ablakwa, the Board of Trustees never discussed acquiring a loan facility, and at the time the loan was acquired, the Cathedral had about $6 million in its bank accounts.

SARA