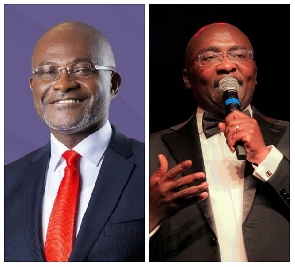 Spokesperson for Vice President Dr Mahamudu Bawumia, Dr Gideon Boako has reacted to an allegation by New Patriotic Party flagbearer hopeful, Kennedy Ohene Agyapong suggesting that the vice president knows the killer of journalist, Ahmed Suale.
According to Dr Boako it is rather reckless and not befitting of an NPP flagbearer hopeful to have made the said statement.

"I have seen a headline published by the Ghana Post newspaper and some online portals on Ahmed Suale and the Vice President's name mentioned. This is simply a reckless statement not befitting of anyone who wants to lead the NPP. Where did we sleep as a party to wake up to this just because of elections?" he questioned in a Twitter poste dated September 19, 2023.

Dr Boako's statement was in reaction to an interview by Kennedy Agyapong on Kessben TV where he responded to suggestion that the NPP will suffer if he wins the party's flagbearership due to his alleged complicity in the murder of Ahmed Suale.

While refuting any involvement in the death of Suale for the umpteenth time, Kennedy Agyapong during the September 18, 2023 interview, said: "Those who wrote the 10 sins (of Ken Agyapong) in support of Bawumia, he (Bawumia) is the vice president, he is the head of the Police Council, they know the killers of Ahmed Suale, why have they not spoken out? And they are coming to blame me for it," he said in Twi.

"If you are a government and your national security (architecture) does not know the person who killed Ahmed Suale, then it means you don't know what you are doing. Is this one of the ten sins of Kennedy Agyapong?" he added.

About Suale's murder:
Ahmed Suale was assassinated in Madina on Wednesday, January 16, 2019, by two unknown assailants.

The assailants shot him twice in his chest and once in his neck after breaking into his car.

The Ghana Police Service is still investigating his murder, but no one has been arrested yet.

Ken Agyapong has been blamed for the murder of Suale because he once urged people to beat him up on live TV after disclosing his identity and address.


I have seen a headline published by the Ghana Post newspaper and some online portals on Ahmed Suale and the Vice President's name mentioned. This is simply a reckless statement not befitting of anyone who wants to lead the NPP. Where did we sleep as a party to wake up to this…

— Gideon Boako, Ph. D (@gboakogh) September 19, 2023
GA/SARA