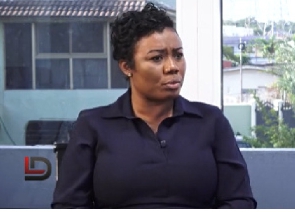 Broadcaster Bridget Otoo has berated the Nana Addo Dankwa Akufo-Addo government over the current hardship in the country.
Bridget Otoo, who made this remark while reacting to a leakage memo on a schedule for the usage of elevators by the Ministry of Health, said the Akufo-Addo-led government was inconsiderate, naïve and arrogant.

In a tweet shared on Saturday, April 15, 2023, the broadcaster also described Vice President Dr Mahamudu Bawumia as an "IT vice president".

"Thoughtless, Clueless, Incompetent and pompous government led by @NAkufoAddo and IT vice president @MBawumia," part of her tweet read.

The said memo, which was titled: "Limiting the Usage of the Elevator (No Lifts Days) ", indicated that the Ministry of Health had instituted a schedule for the usage of elevators at its head office in Accra.

In a memo dated March 31, 2023, the administrators of the ministry indicated that the move was necessitated because of the current financial challenges the government is facing.
The authorities, in the Memo which was sighted by GhanaWeb, said that no staff was to use the lift for movement between the 1st floor and the 3rd floor.

It added that Tuesdays and Thursdays are 'no lift days', meaning all movements in the building, which has about seven floors, will be without the elevators.

"As you are aware, the country is going through some Economic Restructuring. This situation has impacted on Government's financial releases to all Public Sector Institutions.

"Management has also noticed the huge amount of funds expended on maintaining the Ministry's facilities including the elevators.

"This situation is impacting negatively on the finances of the Ministry and has therefore become necessary for Management to regulate the use of the elevator by introducing the following: No use of the elevator from the 1st to the 3 floors. No lift days on Tuesdays and Thursdays," parts of the memo read.
View the broadcaster's tweet plus the ministry's memo below:


I just picked this from @Manasseh_Azure page.

Thoughtless

Clueless

Incompetent and pompous government led by @NAkufoAddo and IT vice president @MBawumia pic.twitter.com/YOAm6V7FEK

— Bee (@Bridget_Otoo) April 15, 2023


Watch the latest episode of People and Places below:



IB/KPE