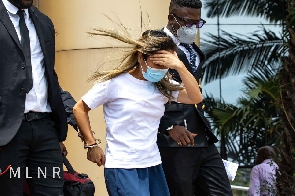 It appears the presiding judge in the trial of En Huang (Aisha Huang), the infamous galamsey kingpin, had had enough of the drama from the Chinese national when she served her a last caution on how to behave in her court.
During cross-examination on Monday, July 24, 2023, by the Director of Public Prosecution, Yvonne Attakorah Obuobisa, the Chinese national broke down in tears, after she was told that she re-entered Ghana despite knowing that she could not do without authorisation.

According to a report by 3news.com's Laud Adu-Asare, this moment in the courtroom caused the judge, Justice Osei Marfo, to cut in, warning Aisha Huang from interrupting the proceeding with her tears.

"Stop the interjection with the tears. It doesn't do anything to me. The question is harmless, just answer and go.

"Today should be the last time you're crying in my court. If you want to cry, cry in prison before you come to my court. If she cries again, it is deliberate. So, I don't expect her to cry again," the High Court judge ordered, the report added.

Earlier, Aisha Huang had told the court that she was unaware she could not re-enter Ghana after she was repatriated from the country.
Aisha Huang is standing trial for engaging in illegal mining and for re-entering Ghana when she was not authorised to do so.

You can also watch the newest episode of Legal Agenda on GhanaWeb TV below:





AE/WA