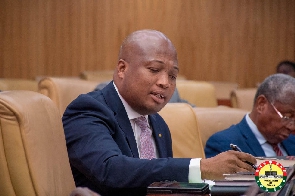 The Member of Parliament of North Tongu, Samuel Okudzeto Ablakwa, has alleged the Intervene Revenue Service (IRS) of the government of the United States (US) raised concerns about the operation of the National Cathedral of Ghana.
According to him, the tax exemption given to the National Cathedral of Ghana and Bible Museum Foundation, Inc, the subsidiary of the National Cathedral of Ghana in the US, is likely to be cancelled because of the activities of its leaders.

In a series of tweets shared on Tuesday, June 13, 2023, the MP alleged that leaders of the cathedral in the US have been engaging in irregularities which have now been noticed by the US government.

"Nobody knows how much has been raised, the banks being used, signatories to the bank accounts and how the funds raised are disbursed, particularly as the cathedral contractor, RIBADE JV has abandoned site for over a year for lack of payment.

"The US cabal who registered the "National Cathedral of Ghana and Bible Museum Foundation, Inc" without a single clergy representation has never accounted to the Ghanaian people, neither to the Parliament of Ghana.

"As previously demonstrated, they have in an illegal conduct, not filed a Form 990 report with the IRS of the USA since 2021 which has triggered genuine concerns that per US Federal law, their tax-exempt status would be revoked any moment from now," parts of the tweet read.

The MP said that operations of the cathedral are continuing in the US despite an order for works on it to cease for an independent audit of its accounts.
"Revered clergymen, Archbishop Nicholas Duncan-Williams and Rev. Eastwood Anaba would be really upset to discover that five months after their explosive, no holds barred memo to the Board of Trustees of the "National" Cathedral demanding that 'ALL CURRENT ACTIVITIES ADVANCING THE CONSTRUCTION OF GHANA'S NATIONAL CATHEDRAL SHALL BE DEFERRED until an independent audit'.

"… the US cabal who operate as law unto themselves have blatantly defied the respected trustees and are still actively receiving cash donations," it added.

View the MP's tweets below:


CONSTRUCTION OF GHANA'S NATIONAL CATHEDRAL SHALL BE DEFERRED until an independent audit," the US cabal who operate as law unto themselves have blatantly defied the respected trustees and are still actively receiving cash donations.

As I found out a few weeks ago through an

— Sam Okudzeto Ablakwa (@S_OkudzetoAblak) June 13, 2023
the infamous US trio are defiantly receiving cash donations in US dollars and also busily sending out more fundraising emails regardless of the notice to defer all activities.

Even more worrying is the fact that the US fundraising operations lack transparency and accountability.

— Sam Okudzeto Ablakwa (@S_OkudzetoAblak) June 13, 2023
vindication for Bishop Dag Heward-Mills who revealed in his earth-shattering resignation letter that it became apparent that their views and inputs as trustees did not matter.

With the barrage of scandals associated with President Akufo-Addo's cathedral both home and abroad,

— Sam Okudzeto Ablakwa (@S_OkudzetoAblak) June 13, 2023
many Ghanaians expect Parliament to expedite action on our motion for a public inquiry duly admitted by Mr. Speaker. May Parliament rise to the occasion and satisfy the overwhelming agitations for accountability.

For God and Country.

Ghana First ????????

— Sam Okudzeto Ablakwa (@S_OkudzetoAblak) June 13, 2023
You can also watch this episode of People & Places here:





You can also catch up on the second episode of Everyday People below:






IB/SEA