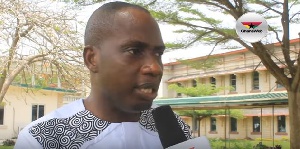 Controversial counsellor, George Lutterodt has tagged unmarried women who engage in hot sexual bouts with men as 'ashawo' in disguise saying they have taken over jobs of professional prostitutes.
He questioned why unmarried women give themselves away for men who are not legally married to them have sex with them.

Speaking with Nana Hemaa on Abusua FM's Ladies Talk, Counsellor Lutterodt argued that it is not only commercial sex workers who are 'ashawo' but any unmarried woman who goes about to have sex with a man without going through the marriage procedure should be branded 'ashawo'.

According to him, unmarried women who engage in this activity unconsciously are practising 'ashawo' adding that they sleep with men for money and material stuffs to enrich their lives.

He kicked against women who allow men to sponsor their education and businesses arguing that it gives the men the room to unleash their libidos on them anytime they want to satisfy their sexual pleasures.

According to him, any man who makes an impact into a woman's life before marrying her doesn't respect her adding that he will only look down on her.
'If you are a single lady and you allow any man to have sex with you, you are 'ashawo', I conducted a research and discovered that we don't have prostitutes in Ghana, all women have turned themselves into 'ashawo'. Prostitution is a profession, ashawo is an enterprise where the girls engage in sexual bouts and charge them for a fee. Prostitution has a fixed price, but where a woman bargains on a price like GHC20.00 or GHC50.00 with a man, she is an ashawo. So if you go into agreement with a man to sponsor your education or trade which you in turn offer him sex, you are practising 'ashawo', it's plain and simple. You leave campus over the weekend to his house to sleep with him anytime he requests for sex,' he explained.

He admonished women to desist from sleeping with men who have not married them in order to prevent any untoward such as heart breaks and attempted suicides when they are rejected.

He said it is a curse for single women to force themselves on men just to be married to please their families or society.

'Before a man should sleep with a woman, the man must have performed the necessary marriage rites to the woman's family. Don't joke with your life as a woman,' he pointed.