General News Thu, 1 Dec 2016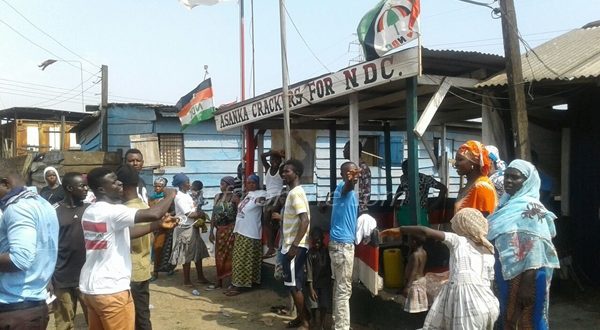 Some NDC supporters in the Ashaiman constituency, are threatening to vote against President Mahama if he fails to visit the constituency before the December 7 polls.
According to the youth group, known as NDC Asanka Crackers, despite the fact that the Ashaiman constituency is the fourth largest constituency with the highest voter population in the country, the President has failed to show them some appreciation for their loyalty to the NDC..

The anger of the supporters in the constituency stems from the fact that the President has failed to visit the constituency since he begun his campaign tour.

The angry NDC supporters on Wednesday afternoon protested at one of their meeting grounds and threatened to vote 'skirt and blouse', and also campaign against the President should he not rescind his decision of not visiting the constituency ahead of the December polls.

"We are not happy with the way the President is handling us in Ashaiman. He has decided to deliberately avoid visiting the Ashaiman constituency because he thinks it is a safe haven for him; but if care is not taken, we shall show him that the people of Ashaiman cannot be taken for granted" they stated.

The youth continued that "how can we be voting for the NDC every election year and the President instead of appreciating us by at least paying us a visit and sharing his plans with us; is playing games with us. We shall show him where the power lies by voting against him or at best stay home without stepping out in our numbers to vote."
The angry supporters noted that, the President's visit to the Ashaiman constituency has been cancelled thrice.

"Our NPP brothers are always teasing us that we are being used and dumped by the NDC; and this attitude by the President only confirms what our NPP brothers are saying, and we feel it is highly disrespectful to the over eighty thousand NDC supporters in Ashaiman."

They added that, "the NPP's Presidential candidate has visited the constituency twice, and this is turning the ground into their favour so it is important John Mahama also comes to Ashaiman to stir up the fire in our members."

"If he fails to come, it will affect our quest to give the party 85 thousand votes, and he [President] should not blame us when this happens."

However the Deputy constituency campaign coordinator for the NDC, Godwin Tsimese, who rushed to the meeting grounds of the youth to calm tempers down, said the party though is worried about the President's inability to visit the constituency, it is not enough justification for the youth to be worried.
"Inasmuch as we share in the frustration and disappointment of our party faithfuls over the President's inability to visit us due to his tight schedule, we still believe there is the need for our party people to exercise restraint in their dealings."

Mr. Tsimese said the party's hierarchy in the constituency, is still in touch with the President's protocol team to try and work something out.

"It is early days yet for our people to worry, we are working out with the President's protocol team to work something out to ensure that smiles are put on the faces of our people" Mr. Tsimese noted.

He urged the party supporters to exercise restraint and have faith in the party and President Mahama as their problems would be addressed.

He assured that the agenda 85 thousand votes as targetted by the NDC is still on course, as the party is doing everything possible within its powers to ensure it is achieved in the Ashaiman constituency