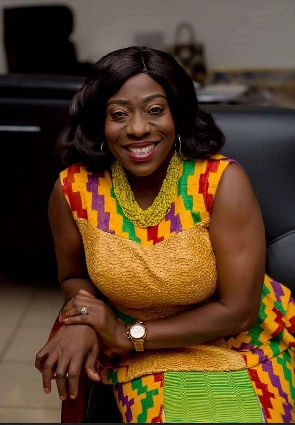 Catherine Afeku, the Former Minister for Tourism, Arts, and Culture in President Akufo-Addo's first-term administration and a prominent supporter of Alan Kyerematen's candidacy in the New Patriotic Party (NPP) flagbearership race has called on her constituents in the Evalue Ajomoro Gwira constituency, Western Region, to cast their votes for their preferred candidate among the ten (10) contestants.
According to a report by Asaaseradio.com, the MP made this call while obtaining her nomination forms to participate in the NPP parliamentary primaries in the Evalue Ajomoro Gwira Constituency.

Despite her significant role in Alan Kyerematen's campaign team, she refrained from explicitly endorsing his candidature in the constituency where she seeks to represent in Parliament.

Publicly, it is known that the NPP executives, including the constituency chairman, in the Evalue Ajomoro Gwira Constituency, have expressed their support for the Vice President of the Republic, Dr. Mahamudu Bawumia, as their favoured candidate for the party's presidential primaries.

Addressing party supporters in the Evalue Ajomoro Gwira Constituency after receiving her nomination forms, Catherine Afeku, urged the constituents to vote for her as their parliamentary candidate in the upcoming 2024 general elections.

However, she emphasized that they have the freedom to vote for any presidential aspirant they prefer during the party's primaries.
"If you support Presidential Candidate A or B, it's not part of the constituency election, so you can choose me as your parliamentary representative and vote for any Presidential aspirant you want. Don't let anyone intimidate you into thinking otherwise," Catherine Afeku told her constituents.

In the 2020 presidential and parliamentary elections, Catherine Afeku lost the Evalue Ajomoro Gwira constituency seat to the National Democratic Congress (NDC) candidate, Kofi Arko Nokoe.

The final vote tally showed a difference of 2,543 votes between her and the eventual winner.

NW/OGB

Watch the latest episode of the Lowdown on GhanaWeb TV below:




You can also watch the newest episode of Legal Agenda on GhanaWeb TV below:




Share your news stories and ideas with GhanaWeb




To advertise with GhanaWeb