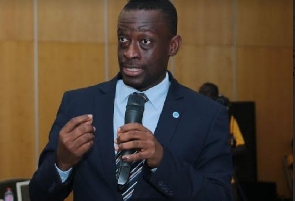 The Western Region Minister, Kwabena Otchere Darko Mensah, has stated that the Wassa Amenfi Central District Assembly is to be dissolved due to its inability to elect a Presiding Member.
This comes even before the President's list of Metropolitan Municipal District Chief Executives (MMDCEs) nominations are released.

According to Mr. Otchere Darko Mensah, the recalcitrance of the assembly members in electing a presiding member will no longer be tolerated.

He made this known at the 1st Western Region Coordinating Council General Assembly meeting for the year 2021.

The Wassa Amenfi Central District has been unsuccessful in electing a Presiding Member and this has adversely affected work of the assembly.
The regional minister said that the Assembly will be dissolved to pave way for developmental activities to be extended to the people in its jurisdiction.

"If the Assembly is unable to re-elect a PM which will hinder development, then it must be dissolved to pave way for developmental activities in the district."

He also urged all acting MMDCEs to accept the list of MMDCEs that the president will release.

According to him, this advice was based on some intelligence he had gathered.