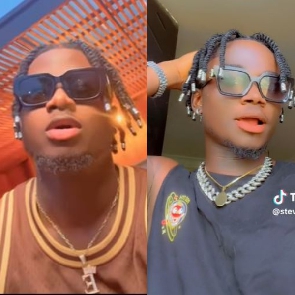 Ghanaian musician, Kuami Eugene, has made waves on social media after he challenged his lookalike to match his new hairstyle.
In a video posted on his Instagram account two days ago, Kuami Eugene playfully taunted his doppelgänger, questioning what he would do about his changed hairstyle.

The challenge garnered attention and left fans eagerly anticipating the response.

On May 17, 2023, the much-anticipated response arrived with Kuami Eugene's lookalike, who goes by the name Steve Quamz, posting a video on TikTok, showcasing his newly styled hair, which is identical to the musician's.

In the video, the lookalike confidently responds to the challenge, saying, "Kuami, what are you saying? You threw a challenge, and I have done it for you."

The video quickly gained traction on various social media platforms, with fans praising the look-alike's attention to detail in recreating Kuami Eugene's signature hairstyle.

Many viewers have also shared their thoughts on the challenge, claiming they find it hilarious given the striking resemblance between the two individuals and commending the lookalike's commitment to embracing the challenge.




Watch the latest episode of Nkommo Wo Ho below:





ADA/BB