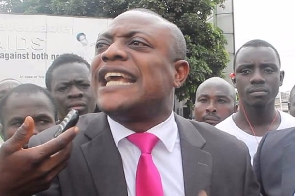 The phenomenon of Ghanaian lawyers evading taxes has been excused on the opulent lifestyle of lawyers and their knowledge of the country's laws.
Private Legal Practitioner, Lawyer Maurice Ampaw indicates that there is no lie in claims from President Nana Addo Dankwa Akufo-Addo, President of the Ghana Bar Association, Attorney General, and Finance Minister that Ghanaian lawyers refuse to pay their taxes.

"Lawyers evading taxes is the truth and we need to admit our faults. Because we are respected and think we know the right thing, we have taken advantage of that to abuse our privilege," he told Happy98.9FM's Don Kwabena Prah.

According to him, lawyers in keeping up with their lavish lifestyles will undercut their profit margins to make up for their debts. "They live lavish lifestyles and will not declare their assets or file their tax returns."

Sharing some examples of why lawyers will refuse to file their taxes he said, "I know a young lawyer who just bought a Ranger Rover when he has not even practiced for five years. He got the car on credit and will have to pay for the car worth over a hundred thousand cedis. There is also another lawyer who acquired three iPhone 12 pro max's for his girlfriend on hire purchase. Why would they pay their taxes when they live their lives on credit and have debts to pay. Lawyers will always refuse to file their taxes because of this," he said in an interview on the Epa Hoa Daben political talk show.

Background
President Akufo-Addo delivering the keynote address at the 2021 Bar Conference of the Ghana Bar Association on Monday, 13th September 2021, in Bolgatanga, Upper East Region, urged lawyers to pay their taxes regularly.

With the theme of the Conference being "Ensuring an Increase in Revenue Mobilization through Taxation for the Purpose of Accelerated National Development", President Akufo-Addo urged the outgoing President of the Bar, Anthony Forson Jnr, to start by getting members of the Bar to pay their taxes.

"The record of lawyers in paying taxes has been historically poor. It is unfortunate, but a most unpleasant fact, that members of the professions in our country have not been known to set a good example when it comes to paying taxes. They appear to think that being members of the learned professions put them above complying with everyday civic duties, like paying taxes. It is embarrassing that lawyers are often at the top of the list of those who flout our tax laws, and use their expertise to avoid paying taxes," he stressed.

Following the recent exposé by the Ghana Revenue Authority (GRA) to the effect that some sixty thousand (60,000) professionals working in the country, including lawyers, accountants, doctors, engineers, surveyors, architects, do not pay taxes, the President was hopeful that persons evading taxes move swiftly to regularise their tax affairs before the GRA moves to crack the whip.