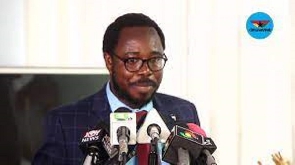 Dr Kobby Mensah, a Political Science lecturer at the University of Ghana, has criticized Ellen Ama Daaku for comments she made about President Nana Addo Dankwa Akufo-Addo appointing his family members and friends to positions in his government.
Ellen Ama Daaku, a member of the communication team of the New Patriotic Party (NPP), slammed persons who have been criticising President Akufo-Addo for appointing his family members and friends to positions in his government.

According to her, there is nothing wrong with the president appointing his relations who are qualified to positions in his government.

Speaking in a TV3 interview on Thursday, April 6, 2023, monitored by GhanaWeb, the NPP communicator asked critics of Akufo-Addo whether they want him to be appointing his foes to fill vacancies in his government.

"I don't see why we will have to attack the president at every turn because we think that he is using his family and friends. Were you expecting him to be using his enemies?

"If the person is capable and can do the job, what exactly is the problem? Madam Joyce Bawah is more than capable of doing everything that she is given to do, I haven't heard anybody talk about her work or what she did when she was in office, she did her work well but doesn't negate the fact that she is related to the former president.
"So, this whole business of family and friends, I believe we should put it aside… if I'm in power, I will most definitely give some position to my family and friends who I think can do the job, you don't expect my to work with my enemies," she said.

Reacting to this in a series of tweets shared on Thursday, Dr Kobby Mensah, said that Ghanaians should be grateful to the NPP communicator for the comments she made.

He said that Ama Daaku was speaking the mind of the Nana Addo Dankwa Akufo-Addo government.

"She's speaking the mind of Nana Addo's regime. Ghanaians should listen to what this regime thinks. Thank you for letting us know your mind,

"… really, what a logic," Dr Mensah said will reacting to a video of Daaku's remarks.
View Dr Mensah's tweet below:


She's speaking the mind of Nana Addo's regime. Ghanaians should listen to what this regime thinks. Thank you for letting us know your mind ???? https://t.co/kXjE0ANLtU

— Dr. Kobby Mensah (@thePOE_T) April 6, 2023
???? really, what a logic ????‍♂️ https://t.co/kXjE0ANdEm

— Dr. Kobby Mensah (@thePOE_T) April 6, 2023
IB/SARA