General News Tue, 17 Jul 2018
In the midst of reports that the British Broadcasting Corporation (BBC) has denied claims it collaborated with Anas Aremeyaw Anas and his Tiger Eye PI on the 'Number12' investigative piece, Samuel Darko, a journalist and lawyer is asking Sulemana Braimah to share with the public what questions he [Braimah] asked of the British public service broadcaster.
'Number12' captures corrupt practices in football such as influencing referees, match-fixing, visa racketeering, which player gets Black Stars call-up, as well as sponsorship and player transfer among others.
Prior to the public screening on June 6, 2018, Abdul Malik Kweku Baako, mentor of Anas Aremeyaw Anas and Editor-In-Chief of the New Crusading Guide said the exposé was a Tigereye – BBC project, stressing that any attempt to prevent the video from being shown to the public would be an exercise in futility.
"If anyone succeeds in placing any form of an injunction on this particular project on Wednesday [June 6], it will be shown outside the country on BBC. This is an exercise in futility. If they don't want us to show it here [in Ghana], we know where to seek that relief," he noted.
However, Braimah, Executive Director of Media Foundation for West Africa, who not long ago expressed why 'Number12' is not a journalistic piece is said to have engaged the BBC via mail with the latter denying such collaboration.
"Contrary to any reports or rumours you may have heard or seen prior to publication stating 'Number 12' was a product of a collaborative work by the BBC and the journalist (Anas Aremeyaw Anas) this was not the case,' the BBC said.
"The BBC documentary, 'Betraying the Game', broadcast after 'Number 12' was first put into the public domain, was an independent and impartial work and a report about Mr Anas' investigation. The BBC played no part whatsoever in his investigation and has never sought to suggest otherwise. Mr Anas is not a BBC journalist, we did not work with him during his investigation or commission him to carry out this investigation" it added.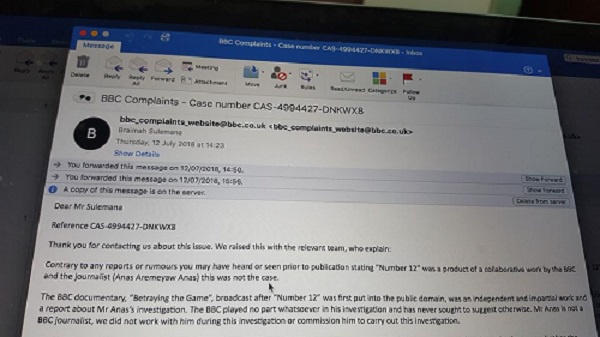 The said intercepted communication between Braimah and the BBC
The development has ignited controversies surrounding 'Number12'. Sharing his view on Facebook, Darko requested of Braimah to provide details of his interaction with the BBC.
Below is his full post