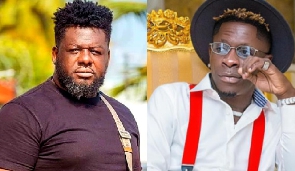 Popular entertainment pundit cum artiste manager, Bullgod, has embraced the idea of an out-of-court settlement in the defamation case involving him and Shatta Wale.
After their court appearance on March 7, it was reported that Bulldog and Shatta Wale have begun negotiations to settle the defamation case brought against the latter by the former out of court.

The lawyer for Bulldog, Justice Srem Sai, made this known to the judge, Justice Joseph Adu Agyemang Owusu, while stating that the parties were unable to file their witness statements as directed because of ongoing negotiations.

But throwing more light on the subject during a discussion on United Showbiz, Bullgod said, so long as the issue is being settled, he doesn't mind if it is done outside court.

He said what matters is that their issues are settled and both parties are satisfied with the outcome.

"Why are we in court? Isn't it to settle the matter? So if Nii Armah's lawyers are saying that they want to settle out of court, there's nothing wrong. Besides we have sat down already to talk about this. We've started a discussion to try and sort this out. Both parties and a few good men," he asserted.
Background

Bullgod, in 2022 sued his former artiste, Shatta Wale, for defamation.

This was after the musician threatened to expose his alleged secret regarding the death of the late artiste manager, Fennec Okyere, among others.

In the court documents filed at an Accra High Court, Bullgod's lawyers indicated that these statements seek to suggest that he had a hand in Mr Okyere's death.

Bullgod is seeking a declaration from the court that these statements and others highlighted in the suit are defamatory and malicious.
That's not all, he is calling on the court to direct Shatta Wale to retract his allegations and apologise to him.

He is also seeking "general damages for defamation, special damages for defamation, punitive damages for the malicious publication of falsehood against the plaintiff, cost, and any other orders or remedies that the Court may deem fit."

Watch the video below:



You can also watch some of our programmes below.






EB/BB