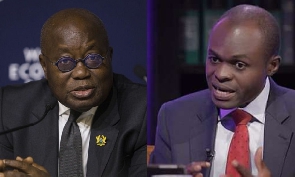 Renowned legal practitioner Martin Kpebu has slammed the Nana Addo Dankwa Akufo-Addo government for failing to admit that they have badly managed Ghana's economy.
According to him, the New Patriotic Party (NPP) government, after promising that it would turn Ghana's economy around in 18 months, is now blaming everybody but itself for the current economic hardship in the country.

He added that after the NPP boasted that it had the men to manage Ghana's economy, the International Monetary Fund sent an expert to help the Bank of Ghana and now, the United States government is also sending an expert to help the Finance Ministry.

"We were bench borrow, we were doping the cedi, we borrow from the international capital market to come and shore up the cedi. When they shut us out of the international financial market last year, then boom the cedi fell.

"What is wrong if you admit that your claim that you had the men is not false, that you don't have the men, you men are not up to scratch and that is how come you led us into a ditch.

"We have the men, we have the men, Kamala Harris (the Vice President of the United States) is now bringing you a resident US economist to come and teach you proper economics," he said in a TV3 interview on Saturday, monitored by GhanaWeb.
The lawyer also said that the government's claim that the economy was doing well before the COVID-19 pandemic is false because experts and bodies like the World Bank warned that Ghana was heading in the wrong direction.

"When you said you could turn this economy around in 18 months by the time Covid came you had done about 40 months. You said you would do magic, your magic failed," he added.

Watch the latest edition of People & Places below:




Watch the latest episode of The Lowdown below:



IB/BB