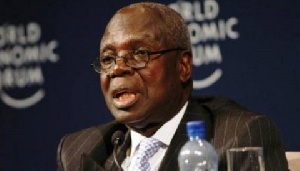 Renowned economist, Dr Ishmeal Yamson has called out government for ignoring all the signs prior to the collapse of the Ghanaian economy in 2022.
He opined that government was well aware of the consequences of its excessive borrowing measures and its resultant effect on the economy.

Addressing a public lecture to mark the 5th anniversary of Academic City University College said government must take responsibility for its mistakes in order to put the economy back on the needed path.

"I don't think anybody can ever say that they were not aware of the issues facing the country and the likely consequences. So, what they [central government] should have done, is simply understand the implications of these issues clearly and with honesty determine what they can do to change the course of what they were doing," he is quoted by myjoyonline.com

"I think the biggest risks was that they [central government] refused to accept that things were not going in the right direction, even when the signs were all over the place. So, I think that is something we have to do differently going forward", the economist pointed out.

Meanwhile, government recently re-opened its invitation for the DDEP in relation to the February 2023 Exchange on September 13, 2023, to enable holders of domestic bonds and notes who could not take part in the exercise to do so.
The Finance Ministry said government was this time inviting holders of the domestic notes and bonds of the Republic of Ghana E.S.L.A. Plc, and Daakye Trust Plc, to tender their holdings of the eligible bonds in exchange for a package of new tranches.

It also noted that the invitation was available only to registered holders of eligible bonds that were not Pension Funds.

Government first launched the Domestic Debt Exchange Programme in December 2022 as part of conditions set by the IMF to secure a $3 billion bailout package and restore macroeconomic stability.

MA

Ghana's leading digital news platform, GhanaWeb, in conjunction with the Korle-Bu Teaching Hospital, is embarking on an aggressive campaign which is geared towards ensuring that parliament passes comprehensive legislation to guide organ harvesting, organ donation, and organ transplantation in the country.
Watch the latest edition of BizTech below:



Click here to start the nomination process for the 2023 GhanaWeb Excellence Awards