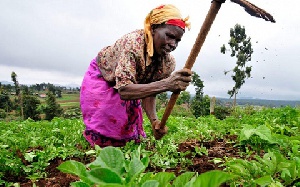 Mr Wilson Arthur, District Chief Executive of Wassa East District has called on the youth to patronize the Planting for Food and Jobs initiative to improve upon their living conditions.
Mr Arthur said this when he launched the Wassa East District Farmers Day at Daboase, held under the theme: "Farming for food and jobs ".

As part of the programme a special song composed in honour of farmers in the district and a documentary on farming activities in the district were showcased.

The DCE said this was the first time the Day was being launched at the district and this amounted to the importance his office attached to agriculture, adding seven out of 10 people do farming in the district.

Mr Arthur said for the district to grow and create enough jobs it is important to concentrate on farming and food processing activities and gave the assurance that the assembly would continue to give farmers the needed support.

The DCE said the government also recognizes the important role of farmers in the development of the country and has as a result put in place a number of inventions such as the insurance policy for farmers, provision of quality seeds and seedlings, subsidized fertilizer and mass cocoa spraying.

Mr Arthur said the day which would be celebrated at Akutiesi Electoral Area would not only consist of the exhibition of foodstuff and livestock but there would be other activities like food fair and urged all to actively participate in the programme.
The DCE said following the massive farming activities in the area, the assembly was planning to open an agriculture college in the district and that everything would be done to ensure ready market for the farmers.

He commended the sponsors of the day made up of SOFINAF, Golden Star, BAJ Freight, NIB, GESRO, GHAPOHA, Lower Pra Rural Bank, Stellar Logistics, Takoradi flour mills and Asafuah Enterprise.

Nana Kweku Kyerefo, Acting Omanhene of Wassa Fiase Traditional Council, who presided over the event, said Farmers Day has come to stay and commended the DCE for attaching much importance to the day.

Nana Kyerefo, who is also the chief of Sekyere –Heman, urged farmers to form associations to enable them easily get assistance from the government.

He lauded the government for instituting the farmers insurance policy which would help the farmers in their old age.

He appealed to the government to increase the quantity of seedlings, seeds and fertilizers to farmers and asked that the items be supplied at the beginning of the planting season to enable the farmers make maximum use of them.