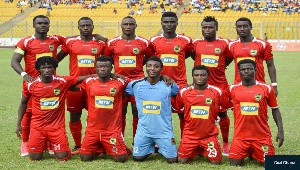 Barcelona vice President Jordi Cardoner i Casaus is said to have arrived in Accra and currently holding a meeting with Asante Kotoko's top hierarchy, the Ghanaian club has claimed.
The First Vice President of the Spanish giants is in Ghana to discuss and finalise agreement to play the Ghanaian powerhouse next May in an anniversary game.

According to Kotoko's Communications Director Lawyer Sarfo Duku, the club's Executive Board Chairman and new CEO George Amoako held a meeting with the Barcelona top official and organisers of the game on Friday morning.

"I can say on authority that Executive Board Chairman Dr Kwame Kyei and CEO George Amoako are in a meeting with vice President of Barcelona in Accra," he told Kessben FM.
Barcelona have confirmed via their club itinerary that Jordi Casaus is on international travel but did not confirm whether the First Vice President has travelled to Ghana.

The big announcement has caused mixed feelings among the football public as a section of the fans doubt whether the game could happen.