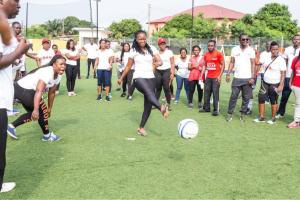 Tue, 4 Dec 2018 Source: UBA Ghana
Staff of the United Bank for Africa (UBA) Ghana Limited, over the weekend defied the humid weather to go through a marathon-healthy exercise packed with fun games at the Adentan-based Light Academy.
The family edition of the "UBA Quarterly Jogging to Bond" dubbed "THE GLADIATOR CHALLENGE" was organised by the bank to keep the bodies of the staff in shape as the year 2018 draws to an end.

The event also afforded the staff of the bank the opportunity to network and socialise among themselves.

Before the games, the staff led by their Deputy Managing Director, Mr Soni Anwal were taken through aerobatics to strengthen their bodies.

Later, they competed in sporting disciplines including football, athletics, tennis, and volley ball parallel with some board games such as Ludu, Oware, Draft and Scrabble.

The games were climaxed by a football competition, which saw Abiola Rangers and Isong United competing for honours.
After 30 minutes display of their football prowess, the match ended 2-2 draw, which resulted in a penalty shootout with Isong United emerging as the winners.

At the end of the exercise, awards were given to staff who excelled during the competitive disciplines, while others were recognised for their outstanding performance during the year under review.

The Deputy Managing Director of UBA Ghana, Mr Soni Anwal, said the exercise was a very important one for the bank as it strengthened the sense of togetherness of the staff for a common purpose.

He used the occasion to congratulate the management and staff of the bank on their achievements during the business year.

The fun games were simultaneously organised in all regions of the country where UBA operates. Jogging to Bond activities were also held in the 19 subsidiaries of United Bank for Africa Plc across Africa, as well as in London, New York and Paris.
Source: UBA Ghana