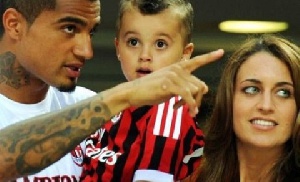 Melissa Satta says he is not bothered about not being recognized for her job but rather married to football star Kevin-Prince Boateng.
Satta, who is a television personality and model is married to the Sassuolo star.

The Italian model says she is not worried about being recognised for being the wife of Boateng rather than her job.

"If it annoys me to be called Miss Boateng? It does not bother me, I'm very calm: if people recognize me for my job I'm fine but if I am recognized because I am Boateng's wife it's okay to me anyway," she said
" There is no dream life, there is a life that you create with wonderful moments and moments of difficulty .. From the outside it might seem that public figures have a wonderful life but the truth is that they are a normal person."

The couple have a son Maddox together.