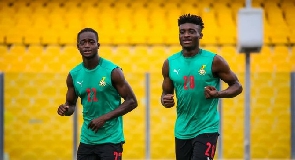 Ghana's U-23 assistant coach, Godwin Attram, has expressed the team's willingness to welcome qualified Black Stars players to join the Black Meteors squad for the upcoming CAF U-23 Championship in Morocco.
The head coach of the Black Meteors, Ibrahim Tanko, has been working with a group of 22 players at the Ghanaman Soccer Centre of Excellence as they prepare for the tournament in June.

As Ghana aims to qualify for the Olympic Games after a 16-year absence, the inclusion of experienced Black Stars players can greatly benefit the team's aspirations.

Godwin Attram emphasized that the technical team, under Ibrahim Tanko's leadership, has discussed the possibility of incorporating eligible players into the Black Meteors squad.

Attram stated, "Those Black Stars players who are under the age limit and can contribute to the country's success should definitely join the Black Meteors. Players like Kamaldeen Sulemana and others have a chance to join the team, and we truly hope they will come on board and make a positive impact to support the country."

"They must join the Black Meteors as well, a player like Kamaldeen Sulemana and others, there is a chance for them to join the team, we really hope that they will join and make an impact to support the country," he added.
He further emphasized the significance of the CAF U-23 Championship, as Ghana has struggled to qualify for the tournament despite its footballing stature.

He went on to say, "The country needs this tournament to qualify for France, it is very important, we haven't been able to qualify for the tournament, a country like Ghana, and it's very bad."

"So we hope that calling them to come and join, they will give their hearts out, play very well, listen to the technical team and make something good out of it because it is good to be an Olympian." Godwin Attram told Radio Gold Sports.

Ghana is hoping to pick one of the three slots in the U23 AFCON to qualify for the 2024 Olympic Games in Paris.

JNA/OGB