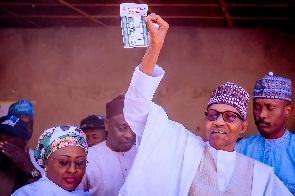 In 2019, outgoing president Muhammadu Buhari trended on voting day when he was captured looking at who his wife Aisha Buhari had voted for.
Fast forward to 2023, Buhari is back in the trends for openly displaying who he voted for in the ongoing elections.

In both cases, Buhari was in the company of Aisha and other aides as they voted at his polling unit in Daura, Katsina State.

The secrecy of ballots has always underlined the conduct of elections and Buhari seeking to know who Aisha voted in 2019 was a breach of that principle.

In the case of the current infraction, Buhari actually breached a law that he signed last year with his own conduct – the Electoral Act 2022.




Buhari inspects Aisha's ballot paper in 2019
The specific infraction relates to Article 96 which reads:

96.—(1) A person, print or electronic medium that broadcasts, publishes, advertises or circulates any material for the purpose of promoting or opposing a particular political party or the election of a particular candidate over the radio, television, newspaper, magazine, handbills, or any print or electronic media whatsoever called within twenty-four hours immediately preceding or on polling day commits an offence under this Act.

(2) Where an offence under subsection (1) is committed by a body corporate, the principal officers of that body shall be deemed to have equally committed the same offence.

(3) A person convicted of an offence under this section is liable—

(a) in the case of a body corporate to a maximum fine of N1,000,000 ; and

(b) in the case of an individual to a maximum fine of N1,000,000 or to imprisonment for a term of six months or both.