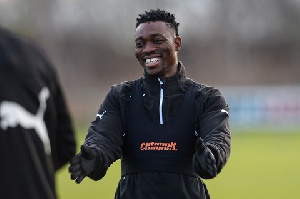 Newcastle United winger Christian Atsu says the dressing room has been lifted by recent wins ahead of tomorrow's FA Cup tie against Watford at St James's Park.
Atsu played the entire duration in the 3-0 win Cardiff City at week at home in the English Premier League.

Before that they beat Blackburn Rovers 4-2 at Ewood Park in a third-round replay last week.

The wins have changed the mood in camp and that is good for the club.
He said, ''These players care so much for this team. When we lose games, you really have no idea what the dressing room looks like. You don't know how we feel when we go home – it's like the whole week is miserable.

''You don't know how to get it out of your mind, and you don't know what to do to make yourself feel better. We just want to see another game, so we can do our best and win the next game.

''This is what we do for a living, and we have to be better and try to win more often. Everybody cares for this team, and we just need to work harder and we will achieve what we want to achieve.''