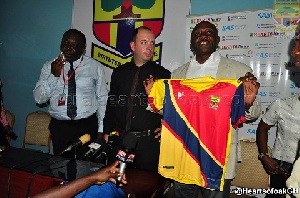 Newly appointed Hearts of Oak's Portuguese boss Sergio Traguil has vowed to bring an attractive brand of football to the club in the second half of the season.
Traguil was brought in to coach the Youth side, but Kenichi Yatsuhashi's decision to mutually terminate his contract with the Rainbow club has seen him assume the post as head coach of the first team.

The former Kaduna FC Coach is not new to the Africa continent having coached in Nigeria before arriving in Ghana.

He has promised to play an attractive brand of football that will be accompanied with winning

"Well this is Hearts of Oak, and I am quite different from Kenichi," Sergio Traguil said after his unveiling ceremony in Accra
"We will retain the ball more, and I must say that the players have already shown signs of adapting to my game."

"There is no target for me but this Hearts of Oak, and we must win."

Sergio Traguil will have a feel of the Ghana Premier League when his side takes on Dreams FC this Sunday.