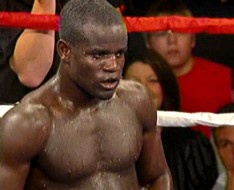 Fri, 10 Aug 2007 Source: CUBAGEE URIEL-HOMEBASE MEDIA
Welterweight contender Joshua Clottey (32-2, 20 KOs) scored a convincing ten round unanimous decision over game two-time world title challenger Felix Flores (22-6, 18 KOs)Thursday night at the Hard Rock Hotel-Casino in Las Vegas. Flores was agressive, but Clottey showed good defense and landed the better punches. Scores were 97-93, 99-91, 100-90.
Other Results:
Bantamweight Josef Agbeko moved to 23-1, 20 KOs after a fourth round TKO (1:23) of Fidencio Flores (10-4-1, 3 KOs). Local lightweight Angel Flores (8-1) scored an entertaining third round stoppage of Anthony Nelson (4-8-1, 4 KOs).
Source: CUBAGEE URIEL-HOMEBASE MEDIA