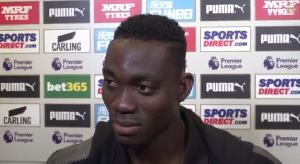 Newcastle winger Christian Atsu has attempted to explain why things never worked out for him during his unsuccessful spell at Chelsea.
The 27 year old joined the English side in 2013 after a fabolous campaign with Portuguese giants FC Porto.

However, the Ghanaian struggled to cement a place in the team as he failed to make a single competitive appearance for the West London club.

But the Ghana international insists he has no regrets over his decision.

"Football is always about chance and when you have the chance you have to take it, work hard and keep going," he told the Mirror.

"The problem is sometimes players find it very difficult to find the right club and when they do it's harder to find the right coach to give them the chance to play.
"Then there is the rare cases of when a player goes to a particular club and no matter what he does things just don't go well for him.

"In my situation the only choice I had was to continue working hard and knowing that I would find what I want, and then Newcastle came along.

"I worked hard then when the opportunities started coming I listened to the manager and gave off my best.

"Everywhere you find yourself there is a reason you are there and for me at that time maybe I was meant to learn something from there."