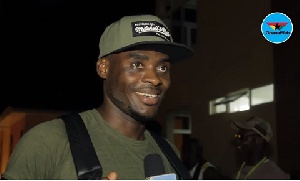 Thu, 21 Nov 2019 Source: Footballmadeinghana,com
Black Stars defender Kassim Nuhu has revealed how participating in the 2019 Africa Cup of Nations with Ghana cost him his place at TSG Hoffenheim.
The centre back played in his first major tournament with the national team during the continental showpiece in Egypt and established himself as a key member of Kwesi Appiah's team.

However this came at a cost, Nuhu opened up to FootballMadeInGhana.com about how he had to deal with the repercussions of leaving his club duties to represent his country.

"Last season I didn't play much from the start at Hoffenheim because I was injured for two months, came back and got injured again. I couldn't get in my rhythm. Fortunately for me, I went to the AFCON and had a good tournament.
"I went back to Hoffenheim with the hopes of establishing myself again but the new coach told me he wasn't counting on me from the beginning because of my participation in the AFCON and I didn't want to be benched again. He wanted me to stay out for at least 5 weeks and I needed playing time so I decided to move."

The 24 year old is currently on the books of Fortuna Düsseldorf after joining on a one-year loan deal.
Source: Footballmadeinghana,com