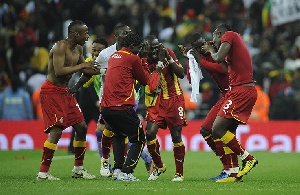 The Minister of Youth and Sports Mahama Ayariga has justified the $25,000 reward package for members of the senior national football team for their performance in the just ended Africa Cup of Nations in Equatorial Guinea.
Each Black Stars player who went to the Africa Cup of Nations 2015 will receive $25, 000 for placing second in the 30th edition of the biennial tournament.

The major sponsor of the Black Stars – the Ghana National Petroleum Company - will take care of the payment, according to President John Dramani Mahama.

Mahama disclosed the reward to the team at a breakfast meeting at the Flagstaff House – the seat of government – on Tuesday. Other corporate bodies will announce packages for the four-time African champions in due course, he added.
Some Ghanaians have described the extra bonus to be given to the players as unnecessary since each player has already received in excess of $50,000 for making it to the finals of the competition.

However, speaking on Asempa FM Tuesday, Ayariga said the players more than deserve the $25,000 bonus to be given them, citing the crowd violence the players endured during Ghana's semi-final clash against the host nation in Malabo.

The former Information Minister added that the players also have to be motivated for future assignments because they played against teams that were promised over $100,000 by their countries.